Feasibility study underway for £20bn Irish Sea bridge
February 10 2020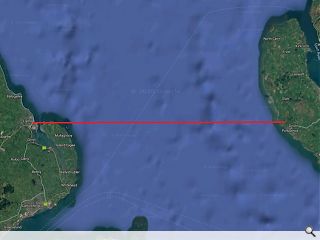 A feasibility study has been launched by the UK government which could potentially see a 20-mile bridge built between Northern Ireland and Scotland.
The scoping exercise will examine whether a physical connection is achievable, by what means and by what route, as well as attempt to quantify costs for the mammoth project which could be at least £20bn.
A government spokesperson said: "The Prime Minister is ambitious in terms of infrastructure projects. He is looking at a wide range of schemes across the United Kingdom which could boost connectivity.
"There is a proper piece of work being carried out into the idea."
The most likely route for any crossing is speculated to be between Portpatrick and Larne, utilising a combination of bridges and tunnels to tame intervening geography, notably a 2-300m deep marine trench known as Beaufort's Dyke.
Complicating the engineering assessment further is the presence of conventional, nuclear and chemical waste dumped during the 1950s.
Back to February 2020