Covid & structural collapse spark Falkirk distillery rethink
January 4 2021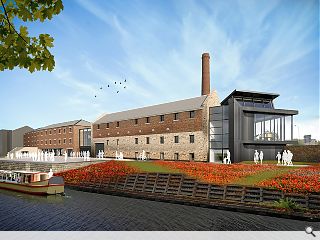 Plans to resuscitate a forgotten Falkirk distillery have shifted gears with revised proposals for the partial demolition and extension of a B-listed warehouse to form a visitor centre.
Ian MacLeod Distillers and Michael Laird Architects paused works in March during the onset of the pandemic following the partial collapse of the south-east corner of the bonded warehouse, with intervening months sparking a reappraisal of the future scope and scale of Rosebank Distillery.
The latest proposals rein in costs by consolidating space and replacing the most dilapidated sections with a new build structure clad in dark grey metal rain screen while retaining the bulk of the canal frontage.
In their executive summary the architects explained: "In order to create a safe, useful and long-lasting structure, the design team have created a revised design that integrates new and old more comprehensively than the consented scheme. This has also allowed the design team to better tailor the development towards future uses, including potential fluctuations in visitor numbers and storage facilities required.
"The revised proposals retain the vast majority of the north canal-facing facade, ensuring that the heritage value of the site is not lost to the community."
As part of the works salvaged artefacts and machinery will be placed on public display with repurposed floorboards serving as furniture and wall panelling.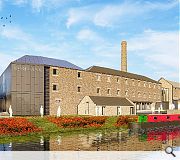 A split level extension will incorporate dark grey metal rain screen cladding and a zinc roof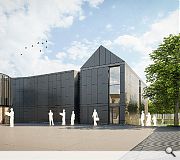 The malt store, regarded as the more historically significant element, will be retained
Back to January 2021