Laurieston Arches reimagined as traffic-free pedestrian link
January 5 2021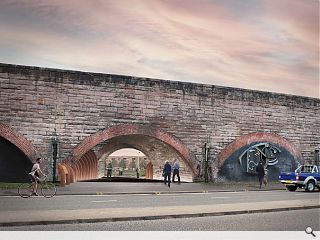 A series of railway arches snaking through Laurieston, Glasgow, is to be transformed from a barrier to a pedestrian link at the hands of Page\Park architects.
On behalf of New Gorbals Housing Association, the practice will revitalise the elevated line as an active public green space, commencing with a new pedestrian link to Hutchesontown via Arch 12.
Acting in concert with Network Rail proposals to introduce commercial uses to a set of arches at Cleland Street the latest proposal would establish an east-west link to Gorbals Street, augmented at a later date with new paving and street crossings.
In a statement, Page\Park wrote: "Arch 12 has been identified as the ideal arch to open up as part of these public realm improvement proposals, as it sits perfectly aligned with the public piazza at NGHA offices on Crown street, and emerges in the middle of Cleland lane.
"This creates a very direct and legible pedestrian through route to connect these public spaces and adjacent neighbourhoods of Laurieston and Hutchesontown. The arch itself sits at the splitting point of the two railway lines above, meaning it consists of two different intersecting vaulted arches. This creates a dog-leg step in plan, where the two arches are slightly offset."
Proposed works will remove brick infill allowing a new ramped metal footway to be inserted that will funnel pedestrians straight through. At the same time, a series of corten steel fins sealed with wire mesh will be introduced to round off the offset archways.
A start on-site could begin early this year with a longer-term goal being to extend the public realm works to connect with the nearby Citizen's Theatre.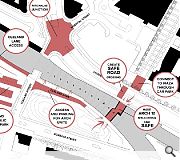 The crossing is just one element of a broader package of public realm improvements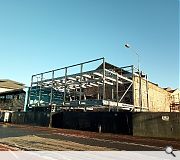 Ultimately the public realm could extend to include a revitalised Citizen's Theatre
Back to January 2021