Edinburgh Filmhouse shrinks after going under the lens
December 15 2020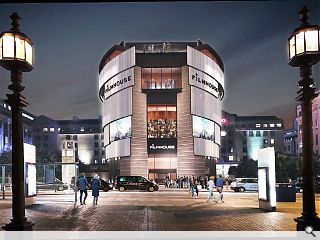 Plans to erect an 11-storey 'temple for film' in Edinburgh's Festival Square have been reduced in scale following four-months of public consultation.
The New Filmhouse has undergone a significant reduction in height together with improved access arrangements from the scheme as first proposed by Richard Murphy Architects in March - although it retains its distinctive oculus form and monumental quality.
Serving as a new home for both the Filmhouse and Edinburgh International Film Festival the revised design reduces the number of floors while retaining key infrastructure such as a rooftop terrace and public viewpoint, screens and an events space.
In a statement, Sandy Begbie, chair of Centre for the Moving Image, wrote: "Submitting the planning application for a New Filmhouse in the midst of a global pandemic might seem like strange timing. However, this is a proposal that has been 30 years in the making, with detailed planning over the last 3 years and crucially, is for the long term.
"The New Filmhouse will be unashamedly contemporary in design, but designed and built for the long term. It will be inclusive, inspiring and financially sustainable, and it will operate on a net-zero carbon basis from its first day of opening. It will be sited within the heart of the city's cultural quarter, and will be the catalyst that transforms and animates the underutilised and unloved Festival Square."
In an accompanying design statement, the architects added: "The plan form of the building is neither circular nor oval. The two curves of the south and north elevations never meet each other but at the eastern end they are terminated to make a dramatic elevation to Lothian Road and at the west end they conclude with the main staircase wrapped in etched glass."
An updated planning application has already been filed with a decision expected by summer 2021, although construction is not expected to get underway until 2023 at the earliest.
Back to December 2020