Barclays Eagle Lab takes flight at Tradeston
December 15 2020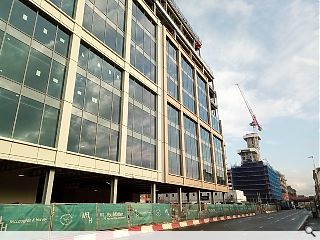 Detailed plans have been drawn up for the activation of a former warehouse on Kingston Street, Glasgow, to serve as an integral element of the wider Barclays campus developing around it.
Stallan-Brand Architects propose to repurpose the Beco Building as a support hub for start-up businesses, part of a nationwide network of events and workspaces operated by the bank, which will enable individuals as well as businesses of all sizes to grow.
In the process, the Eagle Lab project will save a B-listed building which has lain empty for over two decades, in what is billed as the 'missing piece of the jigsaw' in regenerating the riverfront site.
Proposals call for a sensitive adaptation of the historic building with more 'unashamedly new' extension to the rear in the form of a landscaped amenity deck to create a mix of ground-floor retail and creative workspaces above.
Under the plan, a prominent external escape stair will be replaced with a bespoke access arrangement with the brick facade serving as a canvas for new artwork. Expressive picture frame windows will also punctuate secondary facades in vivid red.
The north facade will overlook an elevated 'urban boardwalk' stretching out towards the neighbouring Kingston House that will be capable of serving as the foundation for a future 25,000sq/ft office block.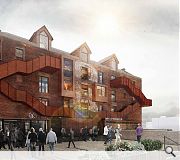 A playfully expressive northern elevation will reach out to the one remaining building of a similar vintage, Kingston House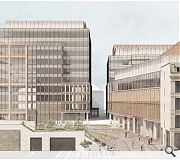 A single storey rear extension could pave the way for a later office block filling the air space above
Back to December 2020