11-level 'temple for film' set for Edinburgh debut
March 11 2020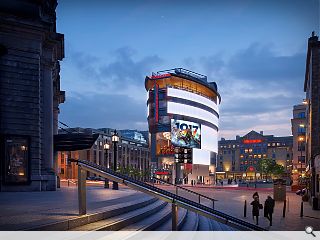 Edinburgh Film Festival is raising the bar with plans for a £50m cinema complex to elevate the International Film Festival to new heights.
A dramatic 11-storey 'temple for film' has been penned by Richard Murphy Architects for the heart of Festival Square on Lothian Road at the centre of a revitalised public space overseen by Open.
The eye-catching oculus design would stretch above and below ground to accommodate a mix of six screens of up to 900 seats alongside a cultural industries hub to support the film industry and a rooftop events space although the design presently remains under development.
Ken Hay, chief executive of the Centre for the Moving Image, the parent body for the Filmhouse and Edinburgh International Film Festival, said: "This proposed new building will transform what we're able to do for Edinburgh's residents and Scotland's film community, as well as providing Scotland with a physical celebration of the most popular art form.
"Through doubling the number of screens and seats for regular cinema-goers, creating dedicated education and learning spaces, and developing an iconic festival centre, all within a fully-accessible and carbon-neutral building, this is a 21st Century temple for film."
Designed to be both carbon neutral and fully accessible the cinema totem would house 50% of its floor space below ground, maximising accessibility through multiple entrances, large format openable windows and transparent glazed cladding suitable for illumination at night. Screens on both sides of the building would also be used to preview the latest releases.
Three all-day public consultations are set to take place on 29 March, 1 April and 28 April at the Filmhouse ahead of a planning application in July. Subject to a successful fundraising campaign the towering venue could begin to rise from 2023.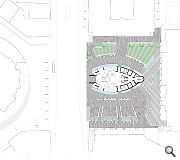 Festival Square will be completely redesigned in accordance with its new role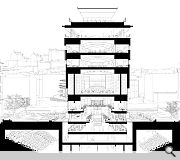 The space beneath the square will be hollowed out to accommodate twin auditoriums
Back to March 2020