Arched arcade to define Princes Street hotel
December 11 2020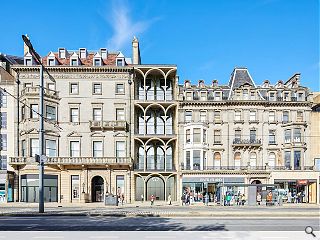 Fund manager Legal & General has published plans to develop a former department store at 109-112 Princes Street, Edinburgh, as a 210-bed hotel.
A design team led by ICA have been commissioned to oversee the £50m redevelopment which will retain the listed facade and a permeable ground floor frontage while redeveloping the interior of the site through to Rose Street.
This approach will see confused and misaligned interior floorplates demolished, enabling a rationalised new build to be inserted that maximises views of Edinburgh Castle and allow for purpose-built facilities to be created such as an events space, basement spa and rooftop bar.
Central to the chosen approach will be a new infill facade conceived as a 'delicate curtain' at 111 Princes Street framing guest bedroom balconies. Employing a series of double-height stacked arches designed to echo its listed neighbours and defining a new pedestrian connection to Rose Street.
Outlining their facade solution ICA wrote: "For this facade it is proposed to introduce a new thin veil facade which is highly decorated - with the decoration almost acting as a visual storytelling device.
"This sculptural approach leaves a number of potential avenues of exploration open - with potential ideas such as taking sculptural cues from the facade decoration of 109 and 112 and using themin a modern collage, or the creation of a piece of newly commissioned sculptural art or even just a series of different textured surfaces.
"To achieve the required aesthetic it is proposed to use a Glass-fibre Reinforced Concrete which would allow maximum flexibility of design, detailing and finish."
The proposed materials palette comprises glass-reinforced concrete, panelled render and zinc with white glazed brick specified for interior courtyard elevations.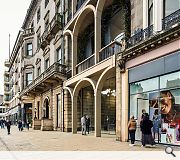 Direct pedestrian access will be offered between Princes Street and Rose Street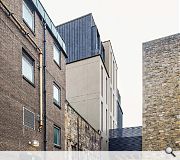 Interventions to the rear will see an overbearing double-stacked access bridge spanning Rose Street Lane South rebuilt as a single storey link
Back to December 2020