Princes Street hotel and leisure hub to promote cafe culture
September 17 2020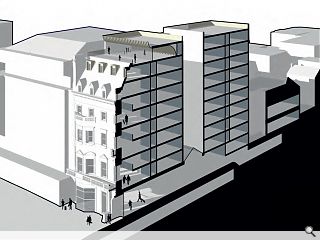 An online pre-application public consultation has opened to inform design proposals for a £50m hotel and leisure 'hub' within the current Debenhams department store at 109-112 Princes Street.
Legal & General has assembled a design team including ICA, Turley and Gardiner & Theobald to prepare detailed plans for the mixed-use destination, which will include a dedicated event space, retail and restaurants by November.
A key aim of this approach will be to restore and protect the UNESCO World Heritage Site by retaining listed facades while fulfilling council ambitions to foster a cafe culture along the thoroughfare.
Reversing interventions dating from 1978 when much of the current site was replaced by a concrete frame structure the work will seek to resolve misaligned floor levels and windows across three separate buildings and break up deep, dark, interior floorplates.
In a statement of intent the consultation states: "The proposed concept design creates and restores castle views by resolving the alignment of floors and windows and creates a coherent and exciting journey through the building. A characterful and vibrant hotel with a ground floor restaurant, basement spa and a rooftop bar are proposed."
As part of this approach an 'dynamic and iconic' design is sought sandwiched between two listed facades to enhnce the streetscape and promote visual connections to Princes Street Gardens and the Old Town.
The consultation concludes: "The proposal seeks to replace the 1978 glazed infill façade which is sited between the two historic listed facades with a new, modern intervention. Befitting of an upper upscale hotel, the new façade infill will positively re-establish the buildings identity."
Members of the project team will be on-hand today until 19:00 to field any questions with the consultation remaining live through to 8 October.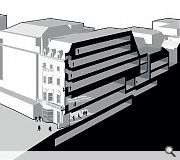 A cross section of the current site. The opportunity to re-establish a retail arcade and glazed courtyard to Rose Street Lane South is also being investigated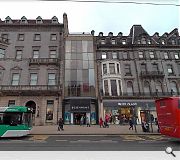 The middle of three buildings will make way for a 'dynamic' new intervention
Back to September 2020