Historic Govan school in good hands with sympathetic conversion
December 1 2020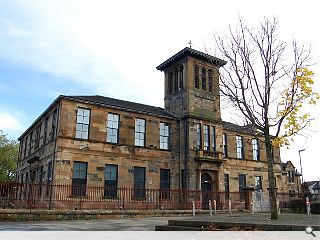 Elderpark Housing Association have gone back to the future for their new headquarters, a fully restored Victorian school in Govan.
The former Hills Trust Primary School has been transformed at the hands of Mast Architects, who have sympathetically restored the 150-year old B-listed structure together with CCG.
These works retain the prominent bell tower as well as interior features such as high ceilings and cast iron radiators and railings, contrasted with large format prints and a modern copper-clad fully accessible extension to the rear.
Elderpark chief executive Gary Dalziel added: "We have been in need of suitable office space for some time and perhaps the easier option would have been to build a brand new office. However, as an organisation rooted within the community for well over 40 years, the opportunity to make Hills Trust our new home appeals to our ethos as a local organisation.
"Having lain derelict for around 10 years, we are proud that we have been able to bring the building back to life and maintain such an important part of Govan's history for generations to come."
The new HQ has been delivered alongside 82 terraced homes and cottage flats at nearby Nethan Street.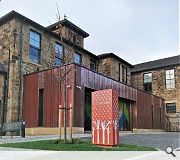 A copper-clad extension completes the transition to a modern and accessible workplace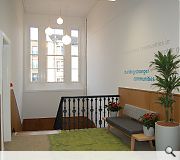 Green, blue and grey décor nods to nearby Elder Park
Back to December 2020