City Building consolidate skills training at dedicated Springburn facility
December 1 2020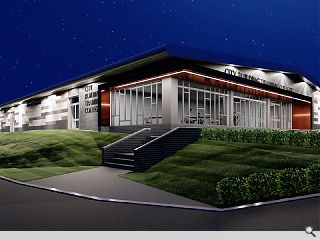 City Building are to build a dedicated training college to consolidate its apprenticeship and training programmes.
The City Building Training College is to rise within the grounds of Royal Strathclyde Blindcraft Industries (RSBi) off Edgefauld Drive in Springburn and will be capable of accommodating 250 trainees in disciplines ranging from plumbing and electrical to joinery.
In a statement, City Building wrote: "Our aim was to provide a high-quality contemporary design which does not aim to mimic the adjacent RSBi factory but add interest to and complement it with the college's own less industrial character. The new buildings (college, gatehouse and combined kennels) will reflect their function, be visible and attractive from the site entrance, re-use as much of the existing infrastructure whilst conserving as much of the existing natural environment as possible and provide a visual and physical link with the existing factory."
Construction should begin before the year is out using timber kit infill panels manufactured on-site at the RSBi factory, with aluminium plank rain-screen cladding reflecting City Building's grey/black corporate identity.
City Building is to close its existing apprenticeship base at Queenslie by 30 September 2022 as part of a desire to consolidate operations around its Darnick Street head office.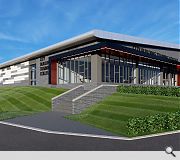 The training facility will rise on vacant ground within the RSBi estate
Back to December 2020