Architect sketches Lighthouse family for posterity
December 2 2020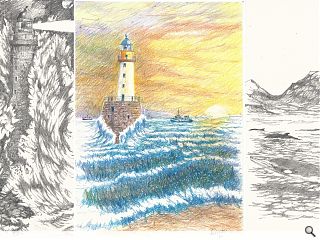 An architects mission to single-handedly document 30 lighthouses designed by civil engineer Robert Stevenson and his descendants is storming ahead with a further three beacons immortalised in sketch form.
Skerryvore, Rattray Head and Skervuile constitute the latest batch, which serve to capture the cultural and social heritage of each location as well as their engineering legacy.
Explaining his fascination with the builders behind these evocative places Dunlop said: "They are built in hazardous and often stunning locations and the workmanship and craft that have gone into them is extremely impressive. They are civil engineering projects rather than architectural projects but they have a beauty and simplicity in that they satisfy a particular purpose.
"The fact that one family built the majority of Scotland's lighthouses - it's incredible."
Skerryvore
At 48 metres, Skerryvore is Scotland's tallest lighthouse. It sits on a reef (An Sgeir Mhor) in an area known for wild seas, 12 miles from Tiree in the Outer Hebrides. It was built in granite by Alan Stevenson from 1838 to 1844. Alan Stevenson was the cousin of Scot's author Robert Louis Stevenson, who considered that Skerryvore was "the noblest of all extant deep-sea lights."
The Skerryvore Lighthouse is serviced by helicopter and was automated in 1994.
Rattray Head
Rattray Head Lighthouse in Aberdeenshire sits between Fraserburgh and Peterhead on Scotland's northeast coast. It is 35 metres high and was built in 1895 by David Alan Stevenson and his brother Charles Alexander Stevenson.
Rattray Point is a headland between Strathbeg Bay and Rattray Bay and famous for dunes which can be up to 23 metres high and stretch for 27 km. The lighthouse has two distinctive sections; the lower section is 15 metres high and built from granite blocks which were quarried at Rubislaw quarry in Aberdeen. The lighthouse is now powered by mains electricity and the light was made fully automatic and the keepers were withdrawn in 1982.
Rattray Head lighthouse is accessible by a causeway which is only visible at low tide. Although the local fishing fleet has undergone significant restructuring over recent years.
Fraserburgh Harbour remains a busy port. The harbour lies 22 km to the north of Rattray Head and is a major producer of white fish and shellfish.
Skervuile Lighthouse: Sound of Jura
The Skervuile Lighthouse was built by Thomas and David Stevenson and completed in 1865. It sits on an isolated and dangerous reef within the Sound of Jura; on the southern coast about and 3 km southeast of the entrance to Lowlandman's Bay. It is accessible only by boat. It was reduced to the status of a minor light in 1945 and then converted to automatic operation.
The Minke whale is a regular visitor to Scottish waters and particularly around the islands of the Hebrides. It is dark grey to black with a white underside and has white patches behind the head and a distinctive bright white band on the outer part of the pectoral flippers. It is the smallest and most common of the baleen whales in Scotland and will grow to between 8 and 10 meters. They can be spotted regularly in the summer months, between July and September but are sometimes present all year round.
Back to December 2020