Elderpark Housing Association extend copper theme to new head office
|
Send to friend
January 11 2019
CCG have been given the go-ahead by Elderpark Housing Association to proceed with a £14.5m residential and commercial development at the former Hill's Trust School in Govan.
The project will deliver a combined 82 terraced houses and cottage flats, alongside transformation of the B-listed school itself into office space for the social housing provider.
This work will necessitate repairs to the current fabric as well as the addition of a 'sympathetic' copper-clad contemporary addition.
Both elements of the scheme have been designed by Mast Architects, who wrote of the proposed office space: "The new build element will be clad in copper; a complementary material which respects the soft tones of the existing blond sandstone. Additionally, the copper links recent projects by Elderpark HA, who have used copper as a signature material."
The copper theme will extend to the homes themselves through copper-effect cladding, inclusing a mansard roof to minimise apparent height.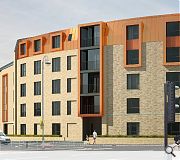 Copper and copper-effect cladding are used to unify the build
Back to January 2019