'Invisible Landscape' wins Hamilton Mausoleum design competition
November 3 2020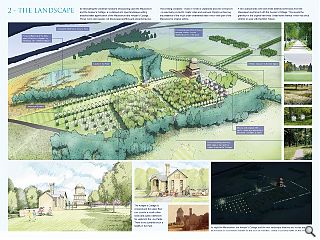 The Glasgow Institute of Architects (GIA) has selected three winners in a design competition to reimagine Hamilton Mausoleum.
John Kennedy secured first place for 'The Invisible Landscape', a bid to re-establish the landscape around the monument in a more formalised manner, repurposing the Keeper's Lodge and introducing new connections with the Low Parks masterplan.
Ross Lambie of the Hamilton Mausoleum Trust observed: "The winning proposal by John Kennedy set out a robust and adaptable masterplan for the wider site, breaking the hinterland up into defined zones, each taking advantage of an existing underutilised attribute. The Trust congratulates John for his winning entry: it certainly has given us delicious food for thought on the future of the Mausoleum and Keepers Lodge."
Judi Keith-Brown, president of the New Zealand Institute of Architects, added: "John Kennedy's scheme taught me a lot about the history of the site, especially around the great north avenue. The reinstatement of this, combining the manmade with the bio-diversity of the site including the wetlands makes for a very beautiful and achievable scheme."
A second-place award was handed to Graeme Nicholls Architects with Ryan Wilson for 'Form Follows Fiction'; a storytelling centre, archive and writers retreat with Ciaran Magee earning the third spot.
An honourable mention was given to Harriet Ridout for 'Living Waters'.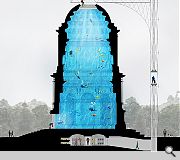 Harriet Ridout earned an honourable mention for this fanciful diving tank idea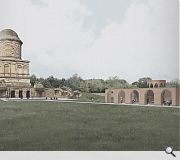 Second place was awarded to Graeme Nicholls Architects and Ryan Wilson for this storytelling centre
Back to November 2020