Employee-ownership furnishes Tangram staff with a business stake
November 3 2020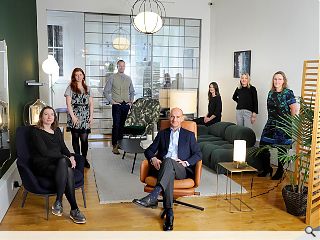 Tangram Furnishers has joined a growing employee-ownership movement by transitioning to a more democratic business model as part of its succession planning.
Sole owner and managing director Julian Darwell-Stone has run the business since 2003 and is preparing for an orderly exit while maintaining job security for the team.
Darwell-Stone said: "When I started to think about the future of the business and my eventual retirement, I knew I didn't want to simply shut up shop and end something I've worked extremely hard to build. I also knew I had a long-serving and incredibly loyal team and I wanted the business to continue in its current form for them. I didn't want to sell to a third party and see the business absorbed into another organisation with different values or a strategy that might not match ours.
"We have developed a very successful business together and have created a strong team ethic, so it was important to me to give the company, the jobs and the brand the best chance of continued independent existence following my exit. Employee ownership is the perfect fit for us."
The new structure will hand 100% of the business to its employees via an Employee Ownership Trust, supported by Co-operative Development Scotland, with Darwell-Stone remaining in a part-time capacity and Sarah Ramsay assuming the mantle of managing director.
There are currently 110 employee-owned businesses operating in Scotland with Anderson Bell + Christie amongst the most recent.
Back to November 2020