Block 9 Architects drive intensification of B-listed Edinburgh villa
October 15 2020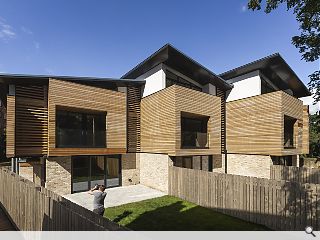 Block 9 Architects have completed the conversion of a B-listed villa to form three apartments, joined by two new mews properties and a further three townhouses within the grounds, after being tasked with intensifying the site by property developer North.
The historic villa at Bruntsfield Terrace stands within the Merchiston and Greenhill Conservation Area of Edinburgh and required replacement of a cast-iron spiral staircase at the rear with the original central stairwell reinstated and lit from above by refurbished cupola roof lights, to provide access to separate apartments over the ground and first floors.
A four-storey historic extension to the east meanwhile has been redesigned as a separate apartment complete with a basement cinema. Thermal, acoustic and fire ratings have also been improved throughout by relining party walls.
Twin new build properties to the rear have been conceived as a contemporary interpretation of traditional mews properties and rise from a masonry base enveloping a timber clerestory and gables. Following the massing established by a previous 1980s office block, these weave dramatic high-level floorspace within the roof, defined by exaggerated aluminium dormers.
Rounding off the accommodation are a further three townhouses which sit at the heart of the site, employing triple-height volumes and suspended stairs to make the most of the available footprint. 'Twisted geometry' between the upper and lower floors exploits open aspects to the villa courtyard to the front and rear gardens with large overhanging mono-pitched roofs oriented towards the former.
Employing a complementary materials palette of masonry, render and Siberian larch clad projecting cantilevered boxes and louvers, the development is intended to be read as a unified composition.
Commenting on the delivery process the architects wrote: "Close consideration was made in advance to what would be approved for the site by the local planning authority, conservation department and the local community.
"The project built upon an existing design proposal which it was deemed did not exploit the full potential of the site, and used a combination of several design elements to intensify the development."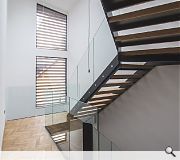 A rationalisation of access arrangements improves circulation throughout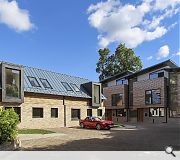 Projecting zinc and larch boxes address a shared interior courtyard
Back to October 2020