Edinburgh town homes make their mark
January 31 2017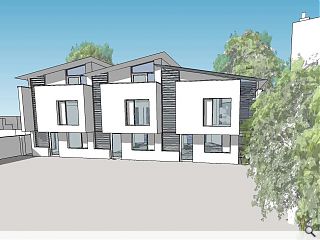 Block 9 Architects have tabled proposals for the creation of
three townhouses on land to the south of Bruntsfield Terrace
, Edinburgh, separated from an existing office block by an internal courtyard.
Upper floors will cantilever out into this courtyard space to create sheltered entrance spaces and each home will benefit from upper level balconies to the front and rear.
In their design statement the architects said: "By locating the townhouses towards the rear of the site, and set well back from the street frontages of Bruntsfield Terrace and Forbes Road, this will have no detrimental effect on the existing massing and separation of villas to either street.
"As the Townhouses will not be perceived as part of the street frontage, and will not be particularly visible from either street, the alternative specification of materials in the background of the site will have little effect on the character of the conservation area."
A masonry base will visually tie with a stone boundary wall, with white render and Western Red Cedar used for the upper levels.
Back to January 2017