Modern tenement to provide convenient accommodation
October 15 2020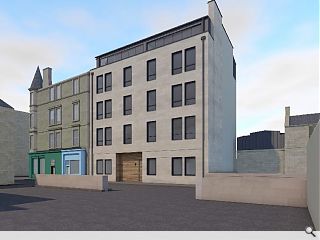 LDN Architects have revisited plans to build ten apartments on the site of a former public convenience at Canaan Lane, Edinburgh.
The sandstone fronted block of flats will slot into the tenement district of Morningside with a set-back top floor incorporating a fully retractable glazing to form a roof terrace behind a concealed glass balustrade.
A ground floor entrance area will be defined by recessed timber cladding with an ashlar stone 'frame' serving as a contemporary take on adjacent shop fronts.
A new planning application was required by changes to the east gable, including creation of a sandstone 'chimney' element standing proud of the render finish.
A previous application showed the elevation fully clad in sandstone punctuated by bathroom windows.
Back to October 2020