East Kilbride regeneration scheme delivers 105 homes
October 12 2020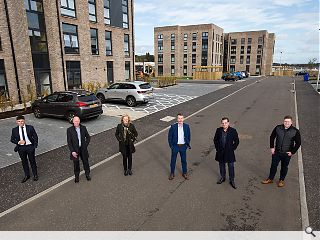 Link Group has taken possession of the final phase of a 105 home development at Law Place in East Kilbride following their handover by Swan Group and the JR Group.
A mix of mid-market terraced housing, and flats; including 34 homes specified for retirement living and 8 wheelchair accessible properties in a two-year development of former industrial land overseen by Mast Architects.
Project architect Martin McFarlane said: "MAST Architects are proud to have designed the Law Place development, comprising terraced housing, flats and retirement living accommodation, to provide a range of high quality, warm and healthy homes.
"By applying simple built forms paired with high-quality materials and sustainable building techniques to create buildings set within robust hard and soft landscaping, the development forms a new sense of place as part of the ongoing regeneration of the area."
Landscaped grounds have been delivered by RankinFraser with targetted planting distinguishing semi-public and private grounds.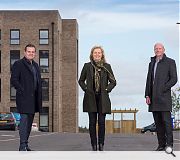 Swan Group will now switch their attention to the delivery of 151 flats for mid-market rent on Newhall Street in Glasgow's East End
Back to October 2020