Ruchill neighbourhood to knit north Glasgow together
October 12 2020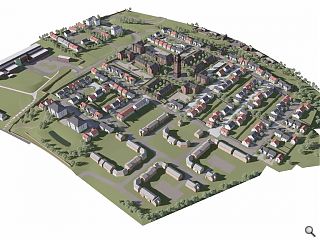 A 15.6-hectare site, formerly occupied by Ruchill Hospital, has been earmarked by Bellway Homes for the delivery of 403 homes.
An A-listed water tower, all that remains of the former hospital following its demolition in 2010, will take centre stage as a focal point and wayfinding aid for the new development.
An accompanying C-listed ornamental staircase will also be rejuvenated at the heart of a central public square and amenity space.
In a design statement, the applicant wrote: "The aim of the development is the establishment of a vibrant new community to the north of Glasgow City centre.
"The arrangement of residential units has given prominence to the historic water tower, with streets arranged to create formalised boulevards surrounding the structure. The use of flatted units reflects the change in scale between housing units and the tower.
"In other locations, flatted units have been utilised in locations where the elevation of the site offers the best aspects across the landscape and act as markers to the entrance of the development."
Four 'mini neighbourhoods' will radiate around the main tower with new pedestrian and cycle routes forming links between Ruchill Park and Benview Campus.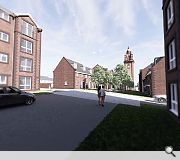 New boulevards will radiate from the retained water tower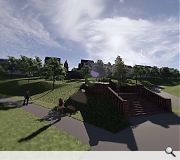 The landscape masterplan will retain an ornamental staircase leading to the landmark
Back to October 2020