Ray of sunlight hits Springburn Winter Gardens as event space is unveiled
October 12 2020
The Springburn Winter Gardens Trust and Collective Architecture have revealed detailed plans for the restoration of an A-listed glasshouse at the heart of Springburn Park.
Derelict since 1983 the plans call for the main hall as a performance and events space as well as a new cafe/bar and outdoor courtyard. An exhibition space would also be fashioned to house artefacts from the former Springburn Museum which closed its doors in 2001.
Adding further community benefit a 'woodland kindergarten' childcare centre will also be provided with a leaseable studio space and office pods providing valuable additional revenue streams.
Stretching to 860sq/m the impressive main hall still impresses as the largest single-span glasshouse in Scotland despite its advanced state of decay, lending itself well an events space housing up to 1,000 seats.
Trust secretary Paul Sweeney commented: "The trustees have worked long and hard with the community in their spare time to reach this important milestone of finally being able to visualise what a restored Winter Gardens could look like.
"In a post-Covid Glasgow, this is exactly the sort of ambitious project that is essential to building a more vibrant and sustainable community in the north of the city."
Project architect Ross Aitchison added, "Restoration of the Winter Gardens would play an important part in the cultural, social and community regeneration of Springburn and North Glasgow.
"We see these proposals for a multi-generational community hub as a viable, and deliverable, opportunity to bring a much loved and missed jewel back into active use by the local community."
Work is now underway to progress a community asset transfer of the building to the Trust from Glasgow City Council with funding negotiations with the likes of the National Lottery Heritage Fund progressing in tandem.
The capital cost of delivering on this vision is estimated at £8.1m, £3.9m of which would be allocated to a two-year restoration - which will not take place until all outstanding ownership, funding and planning issues have been resolved.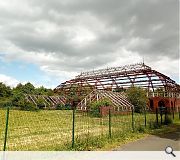 Emergency works in 2017 saved the century old steel frame from collapse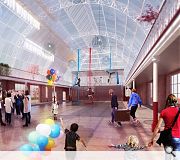 More than just a garden the future glasshouse will provide a range of complementary amenities to safeguard its future in the long-term
Back to October 2020