Mast fly the flag for East Kilbride affordable housing drive
November 24 2017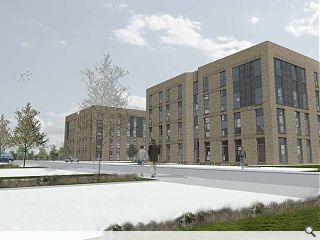 Mast Architects and Swan Group are spearheading a development of
105 affordable homes in East Kilbride
on behalf of Link Group, including a mix of terraced houses, flats and amenity flats for the elderly.
Taking the place of a disused sports complex the scheme takes the form of four flatted blocks of up to six storeys, with two storey terraced homes to the south of these to maximise light.
Clad in facing brick and weatherboard the project will sit within landscaped grounds designed by RankinFraser, utilizing planting to distinguish semi-public and private areas.
In their design statement Mast observed: "Simple forms have been employed across the site to provide mediation, in terms of scale and mass, from the surrounding industrial and commercial uses, through the existing and proposed flatted blocks, down to the domestic nature of the proposed terraced housing."
Work is expected to get underway in early 2018 for completion by 2019.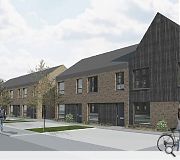 A row of terraced housing is included in the property mix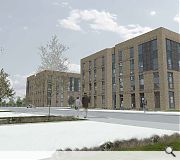 Accent frontages and detailing accentuate entrances and frontage features
Back to November 2017