Edinburgh moves on-site with the latest wave of council homes
September 15 2020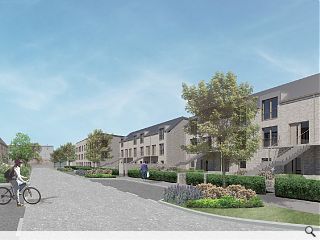 The City of Edinburgh Council has commenced delivery of 40 energy-efficient affordable homes at Bingham, to the northeast of the city.
Scheduled to complete by next autumn the development is being delivered by contractor CCG on the site of the former Lismore Primary. Designed by Anderson Bell + Christie the corner site accommodates two arms of accommodation along Duddingston Row and Bingham Avenue with communal gardens to the rear serving as a buffer to an existing respite centre.
Finished in a mix of light grey and buff brick the accommodation seeks to sit within its suburban context with larger format windows ushering in plenty of light.
A collection of house types including flats, houses and colonies are planned and constitutes a £9.5m investment from the public sector which also includes a sister development of 30 homes at Peffermill Road on the site of a former care home, scheduled to move on-site next month.
Back to September 2020