Duddingston colony-style homes to diversify social housing mix
July 30 2018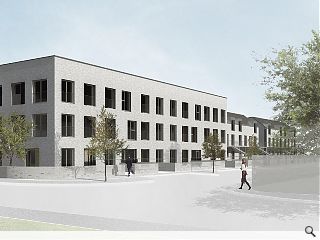 The City of Edinburgh Council and Anderson Bell + Christie have teamed together for the latest element of the city's 21st Century Homes initiative with plans for 40 houses for social rent on vacant ground at Bingham Avenue, Duddingston.
Offering a spectrum of homes from one-bed flats through to three-bedroom houses the scheme acknowledges its suburban surroundings by aligning with the surrounding street and enclosing communal gardens which also act as a 'buffer' to a neighbouring respite centre.
Incorporating a mix of flats, terraces and colony-style homes unified through common use of light grey/buff brick with bronze windows with subtle detailing including extended metal reveals to common stair entrances, emphasised by deeply recessed stairwell windows.
Outlining their approach to the colony design the architects wrote: "The colony typology provides private gardens to both the upper house and lower flat. The upper house has use of the larger south facing front garden accessed via external staircase.
"This staircase is shared by two of the houses encouraging sociability between neighbours. This creates a small entrance balcony, usable as a space to sit outside in good weather for the upper floor and providing shelter at the ground floor when the weather is poor."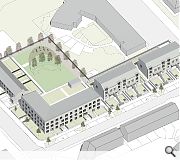 A diverse mix of housing styles are included in the small development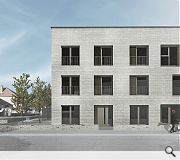 New homes respect the street line and scale of existing properties
Back to July 2018