Timber topped learning hall to crown Aberdeen King's Quarter
September 15 2020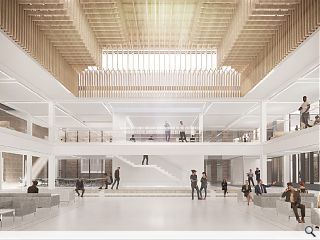 The University of Aberdeen has taken forward plans to build a new teaching and learning hall within existing buildings at King's College.
A complex series of interventions will be led by Reiach & Hall Architects to repurpose the space and improve access; including demolition of 1950's extensions to the James MacKay Hall together with alterations to the Cromwell Tower, Old Senate Wing and 1921 library book stack.
At the heart of the King's Quarter will be a new learning hall defined by a tiered timber roof structure which takes inspiration from the historic hammer-beam roof of the adjacent Elphinstone Hall.
Outlining their approach the architects wrote: "... the timber structure acts as a diffuser for natural light coming into the space and internally as a visual diffuser to control views of high-level services.
"The spread of light across the slats will form planes of subtle illuminance. The tiers aren't centred but asymmetrically setout over the volume over the main space - their orientation directed toward the south to aid the spread of natural light."
The application follows plans for a new business school as part of a broader campus redevelopment strategy.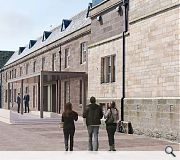 A new east entrance to the Old Senate will be created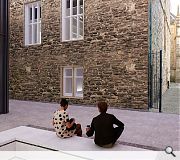 An entrance court will be established around the Cromwell Tower
Back to September 2020