Government outlines thinking for a temporary relocation of parliament
|
Send to friend
May 9 2019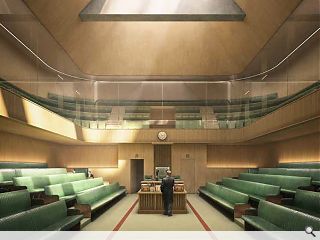 Allford Hall Monaghan Morris has published their design proposals for a temporary debating chamber for the House of Commons ahead of a decant of government from the Palace of Westminster to accommodate vital renovations.
The designs sit at the heart of a consultation launched to inform the public of parliament's plan to relocate functions to the 'northern estate', a disparate collection of office buildings further along Whitehall which are themselves in need of modernisation to accommodate relocated staff.
To that end, BDP has prepared a masterplan for the district, centrepiece of which will be a 650-seat temporary House of Commons Chamber, including an associated viewing gallery and offices. Situated within the listed Richmond House the project will retain the current Whitehall frontage while rebuilding the interior to meet the needs of MPs, staff and visitors.
At once respecting the heritage of the original chamber while opening up access the pared-down replacement will retain the adversarial style of opposing benches, each upholstered in familiar green leather.
The temporary chamber is expected to operate from the mid-2020s and will remain in use as the seat of government until the full completion of the £4bn restoration and renewal programme - which isn't expected until the early 2030s.
Comments are invited on the plans via a dedicated consultation hub prior to 28 June, to inform subsequent detailed planning applications for individual buildings.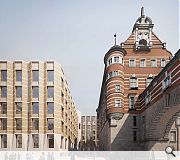 Much of Richmond House will be rebuilt to accommodate its high-profile new role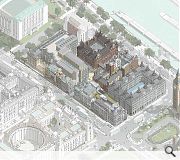 The Northern Estate masterplan alone is expected to cost between £600 and £800m to deliver
Back to May 2019