Change in ownership sees Partick homes break ground
August 24 2020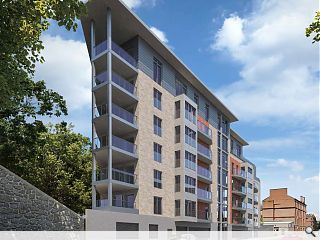 Titan Homes have wasted no time in progressing a consented residential development of 45 apartments at Meadow Road, Partick, after acquiring the development.
First proposed some five years ago Fairfields will rise on a former vehicle workshop overlooking the Clydeside Expressway and an electricity substation, with the exterior clad in prefabricated curved powder-coated metal cladding panels.
The constrained site precludes provision of landscaping or garden areas, with car parkimng and cycle storage contained in an undercroft area to maximise the triangular plot.
Instead the homes will build out two full sides of the site with a shared amenity deck on the third elevatiion, situated above the parking below.
Rising through seven floors the Convery Prenty Architects designed proposal will lead directly to the River Clyde through an existing underpass.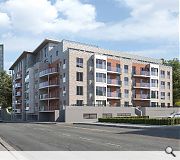 Apartments will have access to a mix of bay windows and balconies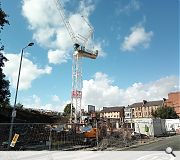 Construction is now well underway on the infill build
Back to August 2020