Walled community to rise on Lerwick hillside
July 31 2020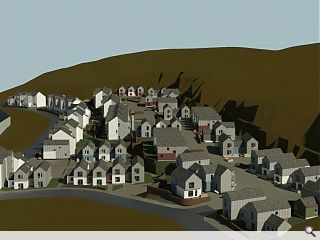 The Shetland Islands are to benefit from 124 new affordable homes following delivery of a detailed planning application prepared by PJP Architects and Hjaltland Housing Association.
Located at North Staneyhill in Lerwick close to Anderson High School the project includes a mix of terrace housing, an access road and a green corridor linking to existing amenities.
Adhering to an established masterplan the proposals will establish a 'wall' of three-storey flats along North Loch Drive. A new spine road will provide access to an upper terrace, bisected by a shared surface area for play and relaxation, lined by individual homes with prominent gables.
This will not be possible without extensive earthworks and blasting to provide level building ground, however, as the architects observed: "The masterplan proposed a dense massing in this area with the built form completing a 'bowl' of development formed around the new Anderson High, Clickimin Centre and the housing to the east of North Lochside. A strong urban edge is sought. Due to the steepness of the site, a sequence of terraces stepping up the slope create development platforms for the different levels of housing.
"Due to the steepness of the Staneyhill the site will be terraced by rock excavation. The retaining walls will be formed from a combination of rock cutting, large- scale 'rock block' and natural stone."
Homes will be faced in natural larch timber with reduced overhangs to mitigate against an extreme climate with excavated stone re-used on-site for boundary walls.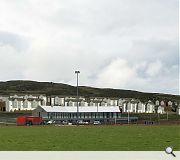 A row of three storey blocks separated by parking lots is designed to be read as contiguous urban edge or wall
Homes will line a linear shared surface along the upper terrace
Back to July 2020