Plans go in for Edinburgh's New Town Quarter
July 30 2020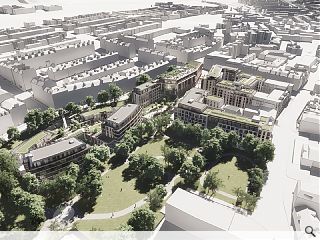 Ediston and Orion Capital Managers are pushing ahead with one of the largest planning applications seen in Edinburgh over recent years against a backdrop of global turmoil.
The New Town Quarter encompasses 5.9 acre former Royal Bank of Scotland site to deliver a mix of homes, offices and a hotel designed by 10Design in the heart of the New Town World Heritage site.
Ross McNulty, development director at Ediston commented: "We firmly believe that now is the right time to move forward with our proposals and deliver further significant investment in the heart of the nation's capital.
"Our proposals for New Town Quarter will help speed economic recovery in Edinburgh."
The culmination of an exhaustive public consultation exercise the plans promise to deliver a shot in the arm to the surrounding area by bringing a large and complex site in the heart of the capital back into productive use.
Back to July 2020