Perth mosque fuses Celtic and Islamic geometric motifs
July 27 2020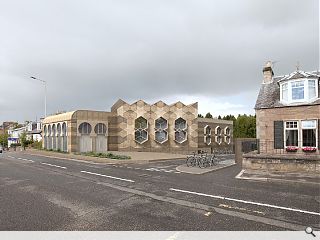 Perth Islamic Society has lodged proposals to build a new mosque and community centre on former industrial land at 43-51 Jeanfield Road.
The first purpose-built mosque in the city seeks to balance its civic importance with its suburban surroundings by utilising a 2m drop in levels to accommodate an additional floor to the rear while keeping the overall massing in step with the ridgeline of adjoining houses.
This rear element will house a community centre with its own independent access while the prayer hall and double-height foyer dominate the frontage. Led by MakeSpace Architects the mosque follows principles set out in recent mosques in Aberdeen and East London to establish a new mosque architecture that reflects both Celtic and Islamic heritage.
In a statement of intent, Shahed Saleem of MakeSpace wrote: "The building is styled to reflect its Scottish and Islamic heritages. Islamic pattern work is taken as the basis for the facade treatment, and this is abstracted to also reflect Celtic and geometric pattern work. In this way, the building is a contemporary and multi-cultural interpretation of traditional influences."
Fashioned from cast stone the mosque will display intricate geometric patterns.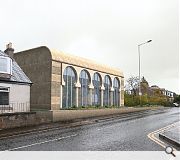 22 car parking spaces will be created as part of the development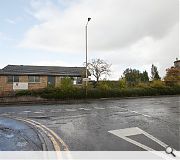 Existing buildings will be demolished to facilitate development
Back to July 2020