Aberdeen mosque moves on site
January 7 2015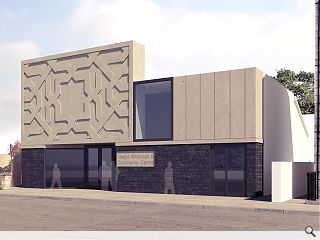 Work to build a
£1.5m mosque
to serve Aberdeen's growing Muslim community has got underway with Chap Construction moving onsite at the city's Nelson Street.
This will allow construction of a three storey community and prayer hall funded by Masjid Alhikmah, taking the form of an extension and re-clad of an existing workshop.
Defined by a decorative screen composed of glass reinforced concrete relief panels and fixed opaque glass rising above the fascia line so that the block can be read as a series of distinct elements rather than one mass.
In a statement Makespace Architects said: "This proposal is intended to be a break from architectural pastiche and present a more sophisticated architecture that references Muslim heritage, whilst also being firmly placed within its present context."
Phase one works are scheduled for completion by June.
Back to January 2015