Generational masterplan to dig Glasgow car park out of a hole
July 27 2020
Vengada Estates have presaged an autumn planning application in principle for King Street Car Park area in Glasgow city centre with the launch of a digital consultation.
An urban framework and mixed-use masterplan is being devised for the mother of all gap-sites; a vast area bounded by Osborne Street, King Street, Bridgegate and Stockwell Street, to deliver a mix of flats, commercial and leisure uses, underpinned by overarching public realm enhancements led by Oobe.
This would see the site filled incrementally over time with new public spaces, re-establishing the street edge while framing landmarks such as the Briggait. A set piece building will dominate this ensemble on the corner of King Street and Osborne Street, lending the masterplan an eastward tilt.
Paul Stallan, director of Stallan-Brand Architects, explained: "It's a fantastic site - a real opportunity to reimagine part of the city that has lain derelict for 50 years. It's a real once-in-a-lifetime opportunity to look at this part of the city and reconnect and reimagine its potential.
"It's an extraordinary bit of land that is essentially a hole in the urban fabric of Glasgow and the opportunity to reposition it so that it connects and contributes to the city is significant.
"Glasgow has enormous headroom to become more urban, populated and connected."
The consultation closes on Friday, 31 July.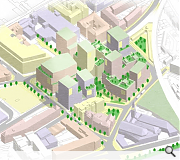 Buildings will ascend in height towards the north-east corner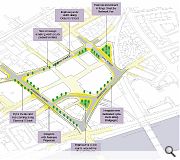 New connections will re-establish the historic site as part of Glasgow city centre
Back to July 2020