M8 closure heralds a new phase in Sighthill regeneration
July 22 2020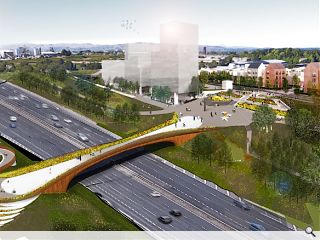 Glasgow's M8 motorway will be brought to a standstill on 1 August for 12 hours to allow demolition of a deteriorating footbridge north of Glasgow city centre.
The nighttime operation will take place between the hours of 22:00 and 10:00 to sever the link, which facilitates pedestrian access from Sighthill to the city centre.
The road closure will allow BAM Nuttallto position a 1,000-tonne crane on the motorway below to remove the bridge in two sections, with concrete transported off-site using HGV's.
Councillor Susan Aitken, Leader of Glasgow City Council and Chair of the Glasgow City Region Cabinet, said: "This section of the M8 is one of the busiest routes on the city's road network, so this work has been meticulously planned to keep the impact on traffic to an absolute minimum.
"The demolition is the first step in a fantastic project to deliver a stunning new pedestrian and cycle route over the M8, connecting Sighthill and neighbouring communities to the city centre. We hope that regular travellers on this route will enjoy seeing the improvements emerging as the works are continued."
Part of a broader regeneration initiative the works will allow a new Jacobs designed 'sustainable transport corridor' which will be built through summer 2021.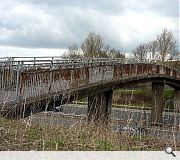 The forlorn existing footbridge has fallen into a state of disrepair
Back to July 2020