'Last resort' demolition heralds big changes in store for Elgin High Street
July 23 2020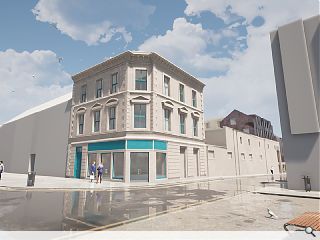 Big changes are in store for Elgin's historic High Street with Poundland helming efforts to develop their B-listed premises in the town.
LDN Architects and David Narro Associates have been appointed to salvage the crumbling structure, subject to a dangerous buildings notice by Moray Council courtesy of some ill-advised modern interventions.
The scale of these issues will require the building to be dismantled and then reconstructed around an interior of modern construction, permitting the use of upper floors as residential accommodation.
In a statement, the design team observed: "The demolition of a listed building is controversial as it will result in the loss of a heritage asset and as such should only be considered as a 'last resort'.
"The proposed demolition of 161-163 High Street looks to reverse the 'High Adverse' effects of the past, with the primary aim of the scheme to reveal the original architectural intent and special interest through 'form'. "
A phased programme of work could see a start made as early as October for completion by April 2022, clearing the way for a second phase to follow on consecutively to the south for completion by November 2023. This latter element would repair a 1940s extension while permitting a new build element to sit on top in tandem with development of underutilised land along North Street.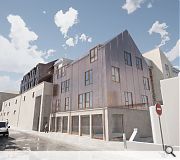 The phase two structure will accommodate additional ground floor commercial units with residential above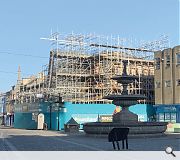 The structure has been shrouded in unsightly emergency scaffolding for two years
Back to July 2020