Glasgow 'street in the sky' to link Sighthill with George Square
November 22 2018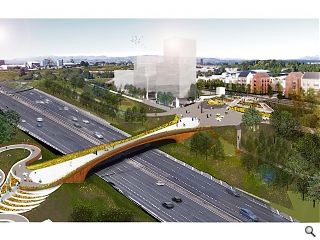 Glasgow City Council is preparing to file a planning application to create a new pedestrian and cycle link spanning the M8 to better connect communities to the north with the city centre.
Dubbed a 'Street in the Sky' the walkway will reduce walk times between Sighthill and George Square to just 15 minutes, with new landscaping further enhancing the attractiveness of the north/south connection.
Designed by Jacobs the bridge is a crucial element in the delivery of the £250m Sighthill Transformational Regeneration Area and is expected to commence construction by mid-2019 for completion by the following summer.
Stretching 58m across the road below the hourglass form link will take the form of a steel box girder with a reinforced concrete composite deck slab, a solution which will require minimal ongoing maintenance.
Councillor Susan Aitken, Leader of Glasgow City Council, commented: "For far too long, neighbourhoods just on the periphery of the city centre have been forgotten or abandoned. Sighthill has typified this neglect, cut off from the heart of the city by the M8.
"If we are serious about building sustainable, balanced and inclusive communities we need to expand how we think of the city centre, to incorporate those communities on its fringes. The new bridge will be more than just a crossing over the M8 – it will be an emblem of the new Sighthill, connecting it into wider city life and helping revitalise North Glasgow."
Upon completion Sighthill will include its own school, a separate road bridge over the Glasgow-Edinburgh main line and a 'canal terrace' at Pinkston Basin.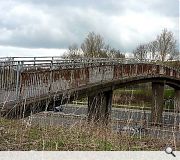 Current connections do little to encourage mobility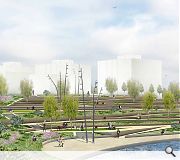 Feature destinations such as this canal terrace will draw pedestrians north
Back to November 2018