Galashiels estate renewal to ensure homes remain fit for purpose
June 25 2020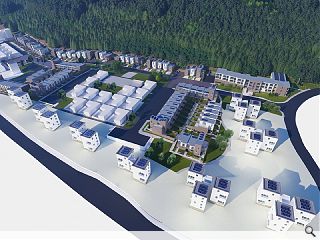 Camerons Strachan Yuill Architects, acting on behalf of Waverley Housing Association, have shared their vision for the redevelopment of the Upper Langlee estate in Galashiels.
Dating from the mid-1960s the Wheeler & Sproson designed estate now finds itself with a surfeit of flats while lacking houses, prompting moves to reconfigure the estate while retaining its inherent spatial qualities.
The twin-pronged approach will combine elements of demolition and new build with refurbishment to adapt to changing requirements of the social rent sector. Multi-storey properties will make way for 109 low-rise houses on the estate, which sits on a linear plateau rising above the Tweed Valley on the fringes of dense woodland.
The major change will see uncompromising slab blocks which wall off woodland to the north demolished, allowing terraced family homes with private gardens to be built. At the same time, popular island blocks will be retained and refurbished as 'objects' within the mature landscape.
Outlining their approach to the new homes the architects wrote: "The new terraced townhouses along the north side of Beech Avenue shall be arranged in short, articulated terraces, of two and three storeys, interspersed with new pedestrian routes and small communal parking courts which give access and views to the mature woodland and public footpath on the slopes of Wester Hill. These houses are formed from two parallel forms, one predominantly solid, containing bedrooms and the other glazed, containing principal living spaces and a roof terrace. A split-level section responds to the existing slope on the site while offering elevated open views South towards the landscape of the Tweed Valley and North to a private garden and the woodland behind."
A central aspiration of the masterplan is to maintain continuity between new and old with all additions reflecting the simple geometric forms of existing properties using masonry and white render.
A mix of townhouses and terraces will be built together with amenity and cottage flats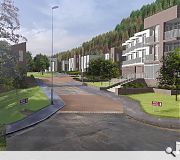 Inset roof terraces animate perimeter footpaths with gardens grouped together for families to socialise in
Back to June 2020