Architectural sketchbook brings past centuries to life
June 25 2020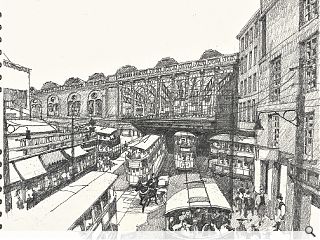 Long-forgotten scenes from around Glasgow have been brought back to life by architect Alan Dunlop in a series of sketches bringing lost fashions and buildings to new audiences.
Having concluded a personal lockdown diary Dunlop has turned his attention to architecture in time, foregoing a T-square, set square and drawing board to rely solely on an A3 sketchbook and pencil to depict familiar sights.
Outlining his aims Dunlop said: "Now that the Lockdown Sketchbook is at an end, I want and need to keep sketching. I thought I'd try a new A3 size sketchbook, this time of Category A listed buildings and architects that were contemporaries of Mackintosh but set them in their period of completion.
"Anyway, keeping a poker straight and perpendicular line is much tougher when you draw by hand, without setting it up on a drawing board and often frustrating but instead trying to set an authentic atmosphere, that's the aim."
Among the landmarks included in the series are Mackintosh's Glasgow School of Art, James Miller's Hielenman's Umbrella and JJ Burnet's Clyde Navigational Trust.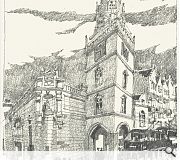 James Adam's Tron Church, 1793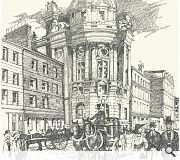 JJ Burnet's Clyde Navigational Trust, 1900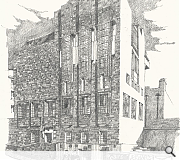 Mackintosh's Glasgow School of Art, 1910
Back to June 2020