New architects drafted in to deliver King's Campus student accommodation
February 13 2020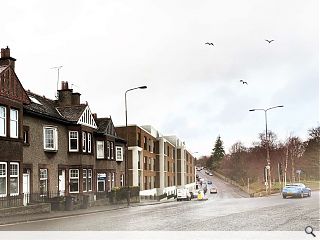 Susan Stephens Architects have been drafted in to prepare updated designs for 148 student beds on Edinburgh's Mayfield Road by Lanark Student Living.
Superseding a prior bid to create 274 beds (subsequently withdrawn) the latest bid calls for a more contextual approach while integrating a contemporary building within an established streetscape just out with the University of Edinburgh's King's Campus masterplan.
Detailing their approach to a site with complex planning history the architects wrote: "Whilst the King's Buildings to the north offer a completely different scale, mass and architecture to the Liberton Dams village feel, there is a natural assessment of rising height and reference.

"Notwithstanding this, the proposal will be judged largely next to its immediate context. By aligning with the established pattern, grain and streetscape, a contemporary solution integrates well by following simple principles."
Key changes include a reduction of both mass and scale by pushing back a fourth-floor setback further from adjoining terraced homes together with the amalgamation of an 'awkward' protruding element within the body of the main façade.
The stepped façade of buff brickwork is marked by distinctive pre-cast concrete window details in a reference to the use of bay windows elsewhere along the street above a white pre-cast plinth.
Back to February 2020