Timber building exhibition showcases exemplar work
February 13 2020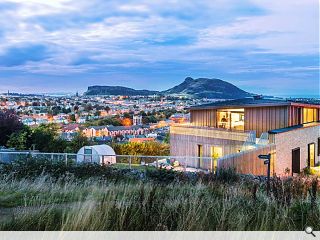 Architecture & Design Scotland have curated a new exhibition showcasing the leading examples of timber construction drawn from across the country.
Focussed on the sustainable use of the material The Best use of Timber showcases five projects which have helped to redefine how timber is perceived by demonstrating its versatility of use in projects ranging from modest family homes to a grandiose distillery.
Jim MacDonald, chief executive of A&DS said, "Scotland has a great resource of timber, as well as fantastic design skills. This is very clearly demonstrated in the range of fantastic projects showcased in this exhibition. Using timber – as a sustainable, locally sourced material - is particularly important as we tackle the climate crisis and move towards a more sustainable, circular economy."

"Timber represents a significant opportunity for innovation and a sustainable new industry. Already 85% of newly built homes in Scotland use timber frames. We know that there is a need to continuously develop skills and expertise in the field of design and timber construction. We hope that with this exhibition we can showcase the potential of timber and expand that knowledge even further."

Andy Leitch from Scottish Forestry added: "Not only does the timber add to the aesthetics and structure of the projects, it also acts as a carbon store for the lifetime of the building."
The selected works were drawn from the annual RIAS Awards and will be displayed on Level 2 of The Lighthouse from 20 February to 6 April.
Back to February 2020