Split personality Govanhill Early Years Facility juts forward
February 14 2020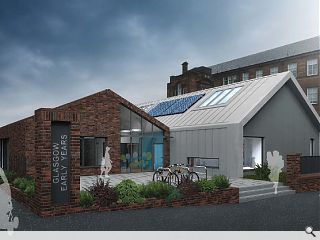 Glasgow City Council has submitted plans to build a combined early learning and childcare facility at Govanhill to provide space for up to 87 pre-school children.
Situated on a former football pitch the urban build sits within the grounds of Cuthbertson Primary, taking the form of a low-slung single storey halls below a dual-pitched roof in deference to its listed neighbour.
The primary entrance will be positioned off Coplaw Street where the façade is pulled back to form a generous arrival point. External play spaces including a timber pergola will be situated to the rear with the building acting as a physical barrier to the street.
In a statement the authority wrote: "The new building comprises two simple parallel blocks with pitched roofs, that slide past each other to form the entrance.

"The street facing block is clad in brickwork with a colour matching tiled roof to create the appearance of a single surface wrapping up the walls and over the roof. Similarly, the zinc cladding of the playroom block continuously wraps up and over.

"The appearance of a single material seamlessly covering each form from wall to roof, along with concealed gutters, emphasises the simple crisp geometry of the building. Against this simple form is an interesting play of contrasting materials, texture, natural colours, and changing light and shadow created by the texture of the cladding and the pergola."

The zinc portion will extend beyond its brick neighbour to provide a glimpse of playrooms behind while giving occupants a corresponding view out.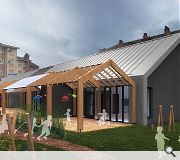 A timber pergola will provide opportunities for personalisation
Back to February 2020