Sheppard Robson win £20m commission to design University of Edinburgh hub
August 9 2017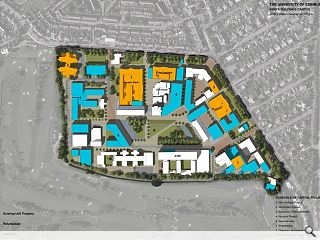 Sheppard Robson Architects have emerged victorious in a competition to design the £20m first phase of a multi-building hub for the University of Edinburgh's King's Buildings campus.
Detailed plans will now be drawn up for the Nucleus Project, scheduled to complete by 2022, by creating a cluster of new and refurbished buildings behind the historic Ashworth Laboratories.
Luke Thurman, associate at Sheppard Robson, said: "Coming off the back of our recent win of the refurbishment and extension of the Joseph Black Chemistry building on the same campus, our aim is to work hand in hand with the University to create state-of-the-art facilities that will continue to attract the best minds to study in Scotland.
"Higher Education is a rapidly changing arena that moves with the times perhaps faster than any other sector in terms of its facilities, and the Nucleus Project will reflect and complement the globally-renowned courses on offer at the University of Edinburgh."
When complete the centralized space will offer a mix of teaching facilities, study areas, cafes, a gym, student information centre and shops for the College of Science and Engineering.
The university is currently progressing a
Fielden Clegg Bradley design for the Darwin Centre
on campus.
Back to August 2017