Edinburgh mobilises 2030 transport revolution
January 10 2020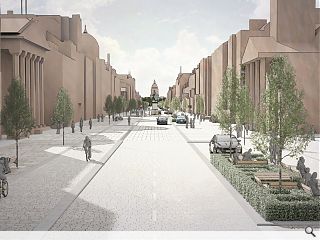 Edinburgh councillors are giving consideration approval of a city-wide connectivity revolution with plans to extend the tram network north to Granton and south to the Bio Quarter while clearing traffic from city centre streets set to be rubberstamped next week.
The ambitious goals are laid out in a draft City Mobility Plan (CMP) which seeks to unclog the city's arteries within a decade as part of efforts to become carbon neutral and respond to growing population pressures.
Among the goals is the creation of a city-wide mass transit network, the prioritization of arterial routes for cyclists and the creation of a largely car-free city centre.
Council leader Adam McVey commented: "The City Mobility Plan offers a radical, ten-year plan to transform transport in the Capital, achieving the kind of change we need by expanding use of bus, tram, rail, walking and cycling to provide the best quality of life for everyone."
If approved an eight-week public consultation on the CMP would get underway in February before a detailed delivery and phasing plan is adopted.
The plan will build on existing infrastructure projects including the West Edinburgh Link, Newhaven tram extension and a pedestrianised George Street.
Back to January 2020