Hassell detail University of Glasgow business school
November 29 2019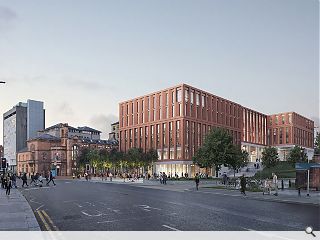 The University of Glasgow has progressed plans for a new business school in addition to a post-graduate teaching hub to serve as a southern gateway to the broader Western Campus masterplan.
Situated on the site of the former Western Infirmary the 11,500sq/m facility will sit behind a reconstituted stone articulated frame with bronze aluminium and glazing.
Internally the design seeks to foster interactions by aligning teaching and research spaces around a central atrium and collaboration space within three separate 'stacks' with the zones between opened up as lightwells.
In a design statement, Hassell wrote: "The building will become a key anchor of the new Gillmorehill expansion and will serve as part of the gateway to the campus. This requires a building façade that is both civic but restrained in its nature.

"The proposed facade is broken into three clear ideas, which allow the building to respond to its is context and topography on the podium level. The stepped boxes break the overall building mass up as an expression of the internal functions."

To engender a more human scale a change of material, tone and texture have been specified for the stepped ground floor podium with a series of staggered boxes stacked above.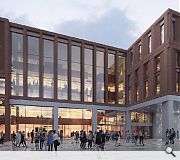 Facade changes between each stack seek to impart greater dynamism to the building as a whole
Back to November 2019