University of Glasgow move on-site with Western Campus expansion
October 29 2018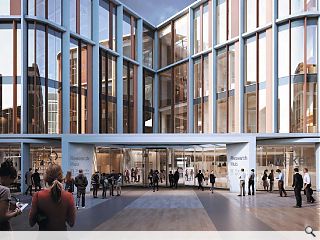 The University of Glasgow has broken ground on a £113m Research Hub immediately after it won planning consent to build the centrepiece of its estate expansion programme.
Located on the site of the former Western Infirmary the hub will accommodate over 600 academics, researchers and students on its upper levels while the ground floor is given over to the university as a whole for exhibitions and events.
Initial work will see Multiplex install 472 piles across the site through to January, enabling construction to begin in earnest thereafter with a minimum of noise and disruption.
Principal and vice-chancellor, professor Sir Anton Muscatelli, said: "This represents a landmark moment in our £1 billion Campus Development programme as the Research Hub will be the first building to be constructed on the site of the former Western Infirmary."
Completion of the HOK designed building is expected by 2021.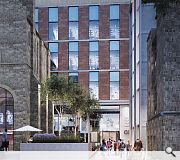 A secondary western entrance is provided from Elder Chapel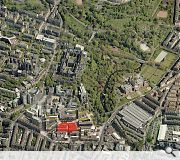 The Research Hub is the first phase of a wider £1bn Western Campus
Back to October 2018