Moda refine Fountainbridge build to rent homes
November 28 2019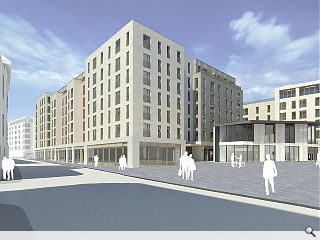 Build to rent provider Moda has come back with amended plans for its Springside development in Edinburgh's Fountainbridge to refine the original vision, reducing the number of apartments from 140 to 139 in the process.
Principally these changes relate to the exterior facades and include the creation of a top floor setback framing a private roof terrace, a new stepped footprint to the south and introduction of a recess to the west elevation to better define the principal entrance.
Outlining their rationale behind the changes CDA wrote: "By removing a large portion of the consented mass, terraces have been created for a number of the first-floor apartments, along with a green roof.
"The external skin has been indented at carefully considered positions to reduce the mass to proportions similar to individual buildings."
The new homes constitute part of the Springside Masterplan which includes provision for a further two buildings containing homes and commercial space which are expected to complete by 2023.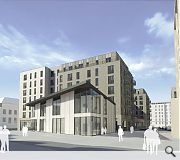 Concrete has been added to the materials palette to blend with the Fountainbridge masterplan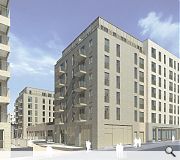 Elevation changes will reduce the perceived mass of the block
Back to November 2019