New plans emerge for Cathcart House expansion
December 2 2019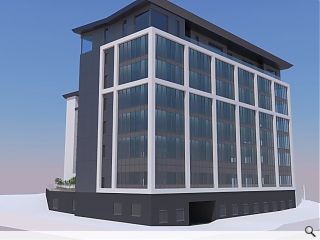 Yeoman McAllister Architects are spearheading plans for a second phase of redevelopment work at Glasgow's Cathcart House with the submission of revised plans for the re-use of a vacant 1960s office building.
The approach will entail a complete redesign of the external façade employing contemporary materials, retaining only the structural concrete frame.
In a statement, the architects wrote: "While a more traditional approach towards the redevelopment of the Listed Building was taken, sympathetic to the architectural features of the past, this proposal seeks to retain some of those same features and express them in a more modern fashion.
"This includes the complete redesign of the external façade, utilising present-day materials, retaining repetition of a consistent square form in a proportional manner. While the proposal is not to mimic the listed building in a pastiche type of way, it aims to reflect some of its characteristics and create a form of relationship between the two."
Properties will be accessed from amenity decks extending from a central stair and lift core with private terraces at the penthouse level and a ground floor amenity space above the basement car park.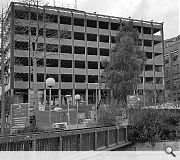 Only the concrete frame will be retained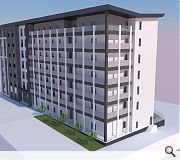 Properties will be accessed from shared amenity decks
Back to December 2019