Glasgow's Trongate turns a corner with new 'urban marker'
November 13 2019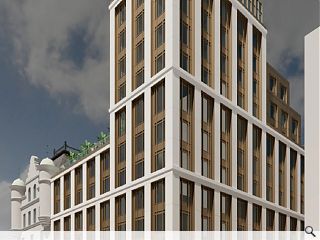 Caledon Property Group has shown their hand at Glasgow's Trongate with proposals to demolish a disused bank in order to allow the formation of a 157 room apart-hotel rising to 12 storeys.
Adjoining the planned Candleriggs Square the project is being overseen by Mosaic Architecture & Design to respect its a-listed neighbour while reinforcing the 'urban wall' of the street below.
Formed from a combination of stone cladding, bronze anodised aluminium and a pink granite base course the chosen solution has been conceived as a height 'marker' at a prominent junction, stepping down in height in deference to its neighbour.
In their townscape analysis, the architects wrote: "Glasgow is a city well known for striking buildings on prominent corners, therefore, we have reviewed some important James Miller buildings which successfully demonstrate the combination of rhythm, fenestration and material.

"We also reviewed some contemporary responses which adopt a similar approach and the Clarges development in London by Squire and Partners is a good example. This project also demonstrates how datums can be utilised to define the massing at the edge of the city block whilst at the same time adopt a recessive massing at the upper levels to achieve a balance between a successful response to the urban context and a commercially viable development."

The same team have already completed the refurbishment of 190 Trongate into serviced apartments.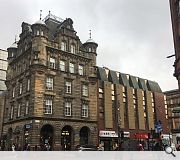 A disused bank will make way for the build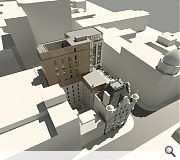 The Trongate could soon hit new heights
Back to November 2019