Wild Glasgow vision postulates 'forest city' formation
|
Send to friend
November 12 2019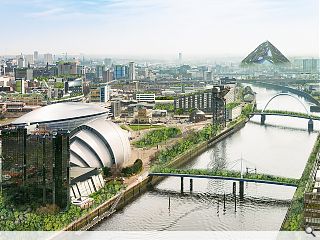 Glasgow has been reimagined as a Dear Green Place in its truest sense in a new study imagining how UK cities could appear when subject to vertical forests, biophilic design, tree planting and roof gardens.
The green vision is the product of fertile minds at Marshalls, a provider of hard landscaping materials, which has been seeking new ways to make cities more environmentally friendly by taking inspiration from 2019 Future Spaces research.
At the heart of this approach is the theory of 'wildness', a model for bringing unkempt nature into the heart of our cities by integrating green infrastructure into design and planning infrastructure.
In a statement, Marshalls wrote: "With the potential to be known as a 'forest city', the improvement to Glasgow's overall look would be striking. With walkways, bridges and paths littered with trees and shrubbery, Glaswegians could expect to feel immersed in nature from the moment they leave home, to the moment they return from work.
"With the adoption of biomimicry architecture to mimic natural forms, there would also be several striking new buildings across the Scottish city's skyline."
Additional plant growth could soak up excess carbon dioxide while producing oxygen, enhancing aesthetics and wellbeing on congested streets.
Back to November 2019