Curvaceous botanical glasshouse earns a green light from planners
August 1 2019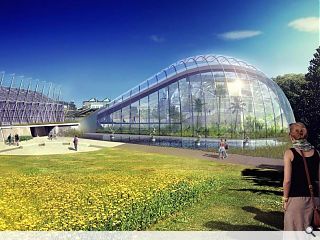 City of Edinburgh Council planners has waved through an application to redevelop the Royal Botanic Garden, including the creation of a new signature glasshouse, as part of efforts to revitalise the historic horticultural institution for the years ahead.
The centrepiece of the remodelled botanical gardens will be a semi-circular glasshouse enveloping the south gable of the Herbarium/Library building adjoining the existing 1967 Front Range. This will afford visitors panoramic views of the city from its upper level in its role as a visitor hub.
Adopting the shape of a 'stylised palm leaf' the striking new space will sit below a curved cable-stayed steel beam supporting a secondary 'leaf' structure of tubular steel.
The need to safely decant plants has dictated a strict schedule of works with the new public glasshouse being prioritised to act as a safe harbour for homeless plants while work elsewhere is ongoing, before assuming its ultimate role as a public display.
Explaining the decision to award consent the city's development management sub-committee wrote: "The proposals comply with the development plan and the relevant non-statutory guidelines, preserve the character and appearance of the conservation area and the character and setting of the listed buildings and would not prejudice residential amenity or road safety."
The approved scheme also comprises essential works to listed buildings within the garden as well as newly created research glasshouses, education and support buildings in support of the institution's ongoing horticultural work.
The Edinburgh Biomes project is being led by Smith Scott Mullan Architects with Ironside Farrar Landscape architects and Nicoll Russell Studios overseeing the new glasshouse design.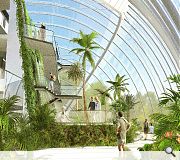 An open air link will connect the new glasshouse to the current Front Range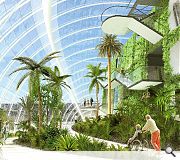 The new glasshouse takes the form of a 'stylised palm leaf'
Back to August 2019