£50m Edinburgh Biomes vision submitted for planning
March 13 2019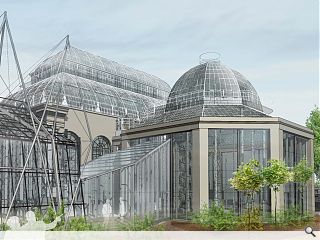 Smith Scott Mullan Associates with Nicoll Russell Studios have filed plans for an ambitious £50m upgrade of The Royal Botanic Garden Edinburgh, securing the future of its globally important plant collection.
The Edinburgh Biomes project encompasses seven new and three refurbished buildings across two sites spanning both public and research spaces.
In a statement, Smith Scott Mullan Associates wrote: "On the public side, Smith Scott Mullan Associates will conserve and refurbish the magnificent Victorian Palm Houses and the unique 1967 glasshouses with their steel lattice exoskeleton.
"This succession of A-Listed nineteenth and twentieth-century glasshouses will be complemented by a new, twenty-first-century public glasshouse by Nicoll Russell Studios. A revised visitor route through the glasshouses will enhance the display of the plant collection to promote public understanding of plant biodiversity, conservation and research.
"Support areas have been redesigned by Smith Scott Mullan Associates to provide a substantial new glasshouse to safeguard the research collections, an education centre and a horticultural building."
Two further buildings on the garden's nearby nursery site will complete the interventions; namely a Plant Health Suite incorporating plant pathology and micro-propagation laboratories. It will be joined by a Sustainable Energy Centre serving both sites.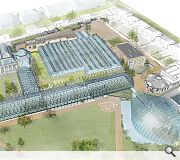 The ambitious build spans seven new and three refurbished buildings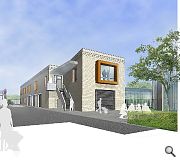 This horticultural support building has been designed by SSM
Back to March 2019