Planners grant 'mixed' Royal Blind School consent in windows stand-off
August 1 2019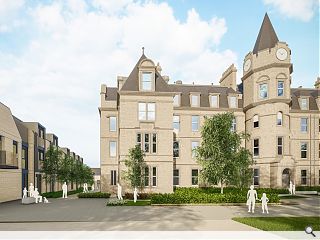 CALA Homes have obtained partial planning consent from the City of Edinburgh Council to convert and extend the C-listed former Royal Blind School at Craigmillar Park for residential use after the authority backed the planned interventions save for the replacement of timber windows.
This would see all 20th-century additions stripped back allowing the original north and west elevations to be reinstated although the authority is unable to prevent uPVC windows from being specified for the main building as these were already present when first listed in 1997.
Timber windows do survive within the gate lodge however and these must be repaired or replaced like-for-like.
Outlining their decision the authority wrote: "With the exception of replacing the existing timber windows on the gate lodge, the works will not have an adverse impact on the character of the listed buildings. They will not detract from the character and appearance of the conservation area. The replacement of the windows on the gate lodge does not have regard to the desirability of preserving the building as one possessing special interest. A mixed decision is therefore appropriate."
Revised plans drawn up by Michael Laird Architects depicted the main school building converted into 21 flats together with the conversion of an existing gate lodge building and demolition non-listed structures to allow 30 new build properties to be built.
Back to August 2019